The EU affirms that public participation is key to the success of a European green recovery. Then why is it not happening in Central Eastern Europe?
In a nutshell
Partnership principle not respected in national recovery spending plans
Alarming lack of public and civil society consultation in CEE countries
Fossil fuels still on sight
Details
On numerous occasions, European institutions have stated the importance of involving public and civil society in achieving the objectives of the European Green Deal. When it comes to the investments planned under EU funds, public participation ensures a better understanding of regional needs and future challenges, and prevents fraud and misuse of money.
This is particularly the case for the Recovery and Resilience Facility (RRF), which is meant to ignite a European green recovery after a global pandemic. The European Parliament has explicitly called for the application of a partnership principle in the creation of national spending plans for the RRF. This principle sets standards for the involvement of partners in the programming, implementation and monitoring phases.
However, the partnership principle seems to bounce off an entire European region: many Central and Eastern European (CEE) governments are excluding local organisations from the drafting of these plans. Local NGOs find that governments are refusing to open plans for public consultation and, disgracefully, are only considering the interests of selected stakeholders. This is why these plans still lack climate ambition and fossil fuels funding remains on sight.
What's more, the voice of civil society is not being heard. In Czechia, for example, no official document is yet available, but a draft plan has already been submitted to the European Commission anyways, without any meaningful confrontation with civil society. The Estonian government has already allocated around 70% of RRF funds without prior consultation. No public involvement has yet occurred also in Poland, Latvia and Romania.
It seems that policymakers like discussing behind closed doors and keeping documents secret. Perhaps in the hope that the "out of sight, out of mind" adage might apply also in this situation.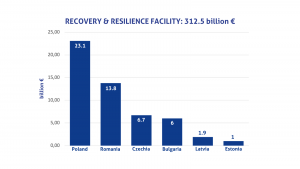 Source